From the Director's Desk
Connect@the Commack Public Library! This month I encourage you to "connect" to our Museum Pass Program.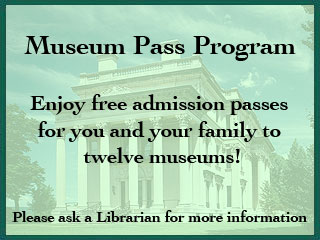 The Museum Pass Program offers free passes to many Long Island and New York City Museums. Commack Public Library cardholders 18 and over can check out these FREE passes to the following museums: American Airpower Museum, Children's Museum of Manhattan, Cold Spring Harbor Fish Hatchery & Aquarium, Cradle of Aviation, Guggenheim Museum, Heckscher Museum of Art, Holocaust Memorial and Tolerance Center, Intrepid Sea, Air & Space, Long Island Children's Museum, Nassau County Museum of Art, Old Westbury Gardens, Vanderbilt Museum and Planetarium, Walt Whitman Birthplace Association and the Whaling Museum in Cold Spring Harbor. I am pleased to tell you that, with a portion of the grant Senator Marcellino obtained for the Library, we will be adding a museum pass for the Metropolitan Museum of Art in the next couple of months. Please click on the museum pass icon on our website or call the Library and speak to a reference librarian to reserve a pass!
The Friends of the Library will be sponsoring multiple programs in the spring. Please take time to read their column, Friends in the News, on page 2 of every newsletter for information about upcoming programs and meeting dates. Their Annual Spring Book Sale will take place on Tuesday, April 14, 2015. A variety of items will be available for purchase including books, magazines, DVDs, compact discs and books on CD. The sale will begin at 9:00 a.m. and continue throughout the day. The Friends will also be having a yard sale and bike consignment on Saturday, May 9, 2015. Please support this great group who in turn supports our great Library.
We continue to appreciate your input on how we can make your Library even better. In the coming months, we also look forward to your input on the future needs of your Library. Thank you for your continued support of the Commack Public Library.
The April issue of the Colophon will feature budget information and narrative from the Commack Public Library Board of Trustees. Our Budget Information Meeting will take place on Thursday, March 19, 2015 at 7:30 pm, prior to the regular Board Meeting. Our voter registration will take place Tuesday, April 7, 2015 from 2:00 p.m.-9:00p.m. The Annual Budget Vote and Trustee Election will take place on Tuesday, April 14, 2015, from 9:00 a.m. - 9:00 p.m. We plan on maintaining a high level of materials, programs and service for all of our library patrons. This year we plan on proposing a 2015-2016 budget with a 1.23% increase and a 1.28% increase in the tax rate, which will not exceed the tax cap. Please attend our Budget Information Meeting Thursday, March 19th at 7:30 pm or read the April Colophon for detailed budget information.
Laurie Rosenthal
Important Message from
Your Board of Trustees
Almost forty-six years ago, our community approved the establishment of the Commack Public Library. After operating out of a small trailer for several years, community use of the Library demonstrated the need for a permanent facility. Our present building opened in 1976 and with only one minor renovation/expansion, the administration and staff has attempted to utilize all available space in the Library to best serve the informational, research, recreational and entertainment needs of our patrons of all ages in the limited space available.
We will be reaching out to you over the next few months to listen to your comments about our draft plan for the Library's renovation. The proposed plan has been developed in response to the appeals from our community, extensive changes in Library services offered, inadequate spaces and building systems, inaccessible areas to our patrons who are handicapped and the rapidly aging structural facility.
Please join us at one of our upcoming informational meetings. We greatly look forward to hearing your valuable input into how you believe the Library can best meet your individual and community's needs as we look to the future of your Library.
Important Friends Dates
Tuesday, April 14th:
Book Sale-Begins at 9:00 a.m.


Saturday, April 25th:
Parrot University - 12 p.m.


Saturday, May 9th:
Yard/Book Sale and Bike Consignment
9:00 a.m. to 4:00 p.m.


Upcoming meetings:
Tuesday, March 31st and Tuesday, April 28th
7:30 p.m.
---
IMPORTANT LIBRARY DATES
Budget Information Meeting:
Thursday, March 19th - 7:30 p.m.


Voter Registration:
Tuesday, April 7th, 2:00 p.m.-9:00 p.m.


Annual Budget Vote and Trustee Election:
Tuesday, April 14th, 9:00 a.m.-9:00 p.m.
Sunday Afternoon Concert
CKA765
All Good Friends
March 22nd, 2:00 PM - 3:00 PM
Register at the Circulation Desk
Take a trip down memory lane with "All Good Friends," a group of eight longtime friends who will sing your favorite memories from the 40's, 50's and 60's and today's Pop, Country and Broadway tunes. This energizing ensemble has been entertaining audiences in various Long Island venues for almost a decade to rave reviews! Don't miss a fun afternoon of music with a great group of "Friends!"
---
~ Adult Programs ~
---
Art Infiltrates World War II: Pin-Up Art
CKA938
Thursday, March 12th, 2:00 PM - 3:30 PM
Register at the Circulation Desk
Nothing could light up the face of a pilot, a sailor, more readily than a beautiful girl from back home. In the dangerous world of the military man, the Pin-Up Girls promised a better life awaiting them stateside. Pin-Ups are a significant and rich part of our nation's art, society and culture of the 20th century and were an integral part of the war effort.
This illustrated lecture by art historian Louise Cella Caruso will bring to light the pretty, shapely girls reminiscent of the sweethearts the GI's left behind, the image the men painted on the sides of their aircraft—images that carried American popular culture onto foreign shores.
Learn Pysanky the Ancient Ukrainian
Art of Egg Decorating
CKA941
Monday, March 23rd, 6:00 PM - 7:30 PM
Register at the Circulation Desk
This old-world craft has been used for centuries to decorate delicate egg shells with intricate designs and symbols using beeswax, kistka, eggs and dyes. Chris Mulholland of RissCraft will show you how to create your own Ukrainian egg. A Pysanky kit will be provided for use in the class and participants will also take those materials home to create more art. The kit contains a kistka, beeswax, kneaded eraser, dye packets and step-by-step instructions. Permanent dyes are used to decorate the eggs and they will stain fabric. Please wear appropriate attire. There will be a $12 non-refundable materials fee due at the time of registration.
Plan an Early Garden
CKA943
Tuesday, March 24th, 3:00 PM - 4:00 PM
Registration: Saturday, March 7th
Be the first one on your block with a ripe tomato! Get a head start on your spring garden with this informative and fun workshop taught by Master Gardener Ken Shelby. He'll show you the ins and outs of seed starting, organic gardening and shortcuts for even better results!
Healthy Lifestyle on a Budget
CKA940
Note Date Change: Thursday, March 26th
7:00 PM - 8:00 PM
Register at the Circulation Desk
Is it hard for you to eat healthy on a budget? Are you perplexed by the different choices available, especially the difference between diet, organic and natural foods? Then this seminar is for you! We will discuss how to shop for healthy foods while being smart on a budget. Come join us to discuss food shopping, cooking and physical activity to help you and your family achieve a healthier lifestyle.
Get to Know Your iPad
CKA944
Thursday, March 26th,10:00 AM - 11:30 AM
Registration: Saturday, March 7th
The iPad has changed the way people use computers. You can read books, take pictures and videos, play music, watch movies, and more. In addition, there are over 1.4 million apps you can download, most of which are free. Don't know what an app is? Then you definitely need to join us for a demonstration of this revolutionary device led by an instructor from SeniorNet of Huntington.
Home Food Preservation:
Canning Jams and Jellies
CKA942
Thursday, April 16th, 7:00 PM - 8:30 PM
Registration: Saturday, March 7th
Certified Master Food Preserver Mark Vosburgh will give you an overview of the process of making jams and jellies, from its historical beginnings, and will explain in detail the different options and processes for making jams, jellies, preserves, conserves, marmalades, and fruit butters. He will address general principles of safe food handling, equipment needed and the benefits of canning.